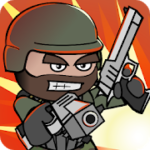 Mini Militia 2.2.107 is a game that gives you a great gaming time. The game is adventurous, where different armies will battle and the best survivor will win the game. It has two virtual joysticks for controlling it. One is to move the player and second one is to shoot the enemies. With lots of action game has managed to maintain the excitement level of players. It is a multiplayer game where you can play with players of the world.
Release notes of Mini Militia 2.2.107
Mini Militia games always keeps itself updated so that it can give you can enjoy without any hassle while playing the game. Here are release notes of Mini Militia 2.2.107-
1- It has added an indicator showing busy when it waits for server response at the time of login and startup. The indicator is placed at the main menu of the game.
2- After exceeding the player count 32,767, the display of game was getting an error in the previous version. Now it is fixed.
3- On upgrade and store purchases, players would be able to see local rewards on store and upgrade screens.
4- It has fixed ssl(heartbleed) security.
How to download Mini Militia 2.2.107?
You can easily download the game with these steps-
Click the download link given below the article.
Install the downloaded file in your device. Aftet it, you can play game smoothly.