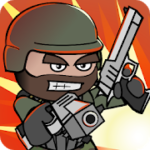 Mini Militia is a powerful 2D game. It is a multiplayer game, in this game you have to face your opponents all across the world. This game is absolutely challenging, it needs concentration to win the difficult battles. Around 12 people can connect and play easily on Wi-Fi. It has two sticks to play one is the aiming stick and the other is the virtual stick, the aiming stick is on the right side whereas the virtual stick is provided at the left of the screen, with the help of this you can move your character. And about the aiming you don't have to continuously click on the button, you just need to point your target and the weapons will shoot automatically. You need to have enough time to complete this game as the levels are very wide as you have many space to hide yourself from the enemies and also it provide you interesting weapons and grenades in each level so that you keep on fighting in order to win. With some pretty basic visual and fun battles, this games catches all hearts and you would also love this. Just give it a try.
What's new  in Mini Militia v4.0.11
Upgraded server security.
Added a movable 'Pickup/Dual Pickup' combo button on HUD controls.
Fixed crashed that affect large friend and message lists.
Added better description.
How to download  Mini Militia v4.0.11?
Select the download button.
Once you select it ,it will start downloading.
After the download is finished ,click on the Apk.
Start the installation process by following some instructions.
Once the installation process is finished, the Mini Militia app is ready to use .