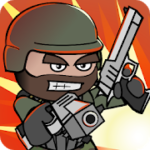 Are you a action game lover? Then you would like Mini Militia game definitely. This is an action games where multiple soldiers team battle with each other, and the most powerful and best one wins the game. Interesting isn't it? The game is quite popular in the action fans. It allows the users to use two sticks, of which the first one is used for shooting and second you can use to move. The game has customisation options as well.
Release notes of Mini Militia 4.0.36-
Here are the release notes of the game-
Now the game has introduced a new mode of capture the flag(CTF) to all existing maps.
It has now changed the flamethowers which has eliminated the gas clouds. Now, existing users wouldn't be able to see the cloud disappear.
Bugs fixes are done for the crash logs of game.
To include new players company has added more servers to it, which will support more players.
How to Download Mini Militia 4.36?
Get ready to download the game on your device with these steps-
You will find a download link just below the article. Click on it to initiate the download of Mini Militia game.
It will start downloading in your device. Now open the downloaded file you will in your download folder.
You can now install it and enjoy the game with other players.