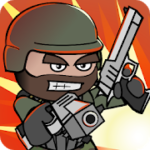 Mini Militia is one of the best action game for android. It is an unlimited fun game and networking with other players. It is one of the most addictive multiplayer game. Im this game you have to face your enemy or opponent across the world. You play the whole game with the help of two sticks the virtual which is on the left with help you to move your character and the second one is aiming that is on the right and help you to shoot your enemies, but you don't need to worry about your aiming it will automatically start once you target your opponent. You have to keep on moving forward and fight with your opponent to succeed, the more you will succeed the more you will get points and weapons that will be helpful while shooting your enemies. It is a very interesting game, just plug into it whenever you are bored and you'll surely have the best time.
Mini Militia is nice game with wide levels to play and also offer you pretty fun battles that keep you engaged and keep you going and the best thing that everyone likes about it is that it offers almost 12 people to play inside the same Wi-Fi network.
Release notes of Mini Militia v4.0.42 :
Added large screen support
New spawn points added to CTF maps
Fix getting stuck while booting
Fix game not ending while booting
How to download Mini Militia v4.0.42?
Click to start download, once it is finished start installation and follow the instructions to finish. Tap finish to complete the process and you are good to go.