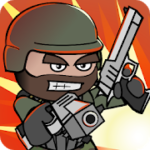 Doodle Army 2: Mini Militia is a free to play multiplayer game available on Android and iOS devices. The game features an exciting online multiplayer combat between 6 to 12 players online. Players have the options to kill each other using various weapons. It was one of the top games on the Indian Apple App Store in 2017.
Features of Mini Militia v5.6
Users can use various weapons such as flamethrower, shotgun, and sniper, etc. to kill and defeat each other.
There are various modes such as offline training, Co-Op and survival modes where the players can test and improve their skills.
Controls are fun and easy to use with its intuitive dual-stick layout.
The new zoom option lets users zoom the weapon according to their preferences.
Players can purchase the Pro Player Pack to get full access to features such as extra avatar customization, dual wield ability and online weapons including a rocket launcher, laser, saw the gun, sniper rifle among others.
The game features cartoonish graphics making it age-friendly and appealing to a younger audience.
It comes with open world maps so users can go to the location of their choice.
The rocket boost feature allows the player to fly for short bursts of time.
Its developer has promised features such as clans support and a map editor so users can stay connected with each other and create their maps.
There are various powerups such as Health Pack, Riot Shield, and Power Boost to help the players in the Mini Militia game.
How to download Mini Militia v5.6?
Want to play this addictive multiplayer game? Get it here: