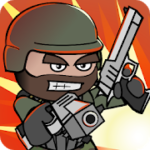 Sarge is on his way to tackle bloodthirsty, clamorous robots and you can join him in destroying them. Mini Militia is the game that everybody is playing around with. Developed by Appsomniacs LLC, Doodle Army 2 Mini Militia was recognized as one of the best games on Apple Store in India in 2017.
Features of Mini Militia v7.42
The game supports multiplayer mode which allows the player the choice of competing against 12 other players in a LAN (Local Area Network) like setting or online gameplay that allows a maximum of six players per server.
Aside from the multiplayer mode, the game also features training mode where the player is taught the usage of weapons with the help of practice robots and basic controls at Officer Candidate School by military commander Sarge and Survival Mode where the player fights enemy robots alongside Sarge. The multiplayer mode has additional weapons and maps along with other modes like Team Deathmatch not featured in Survival and Training mode.
The game occupies around 47 MB in your storage space making it easier on your phone's storage capacity and allows the player to download custom avatars and weapons in the multiplayer mode.
The game is of a moderate difficulty level with Power-ups like Rocket Boosters, Health Restore and various grenades are available in the multiplayer mode.
How to download Mini Militia v7.42?
Mini Militia requires Android 4.1 and above and iOS 6.0 and upwards and can be downloaded from the provided link. The game is also available on Playstore for Android users and Appstore for iOS users.