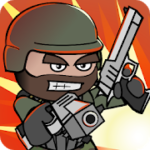 If you love battle games, this one is for you! Mini Militia is the latest dual-stick shooter multipayer chart buster game that packs cute, little soldiers, the Doodle Army, in an action-packed shooter game. The last one standing wins the game after a fire-powered battle.
Features Mini Militia v7.48
Free to use.
Shooter game.
Fast paced and fun.
You can choose between multiple modes.
Training mode is available which lets you train for the actual game.
Survival mode which lets you train with Sarge to prepare for battle.
Then there's a Multiplayer mode with the Internet and Wi-Fi cross-platform connectivity, I.e, iOS, and Android users can play together.
You can play with 6 players online via Game Centre or 12 via LAN or Bluetooth or Wi-Fi. It is seamless and makes playing with friends just so easy.
Epic open world maps to play in where users have to navigate around using jet-pack boots, pick up a range of weapons including a machine gun, a rail gun, a flamethrower, and a shotgun.
Dual stick controls, one for movement and the other for shooting. Swipe at the right control to fire.
Customize your avatar.
Wide variety of weapons, maps, and game modes such as Team Deathmatch or Capture the Flag.
Use microtransactions to obtain additional weapons and avatars. Boost health, weapons and additional resources from the store.
Pro Pack has Rocket Launcher, Sniper Rifle, Machete, Dual Wield and Avatar Skins.
Play on your Android or iOS device.
How to download Mini Militia v7.48?
Download Mini Militia using our download option given below and welcome to The battle!