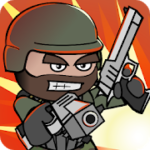 Doodle Army 2: Mini Militia is a free to play 2D shooter game. The game was earlier launched for IOS devices. However, as the game gained momentum, it was launched for Android devices too. Developed by Appsomniacs, it comes under the genre of shooting and can be downloaded from Google Play store easily.
Features of Mini Militia v7.50
The main features of Mini Militia game are as follows:
●The game can be played on both single player and multiplayer modes. The single-player mode allows a single player to participate in the game. On the other hand, multiplayer mode can allow more than one players to play at the same time. They can play as a team.
●The begins with the training mode in which a trainer named Sarge trains the players to play the games. Players are trained regarding movements and the use of weapons in the game. Training mode of the game makes playing further levels quite easy. Players don't remain clueless about the tactics used and the way they are supposed to play the game.
● After the training mode ends, the game features survival mode. In this mode, players are brought into the battlefield by their trainee Sarge. The players are required to defend themselves on the battlefield. Survival of the fittest is the only goal.
●The multiplayer mode can be played using both Internet connection or Wi-Fi network. The Wi-Fi local area network supports 12 players and the online network supports 6 players.
How to download Mini Militia v7.50?
The game can be downloaded on both Android as well as IOS devices. To download the game, click on the given link-