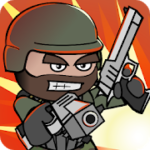 Doodle Army 2: Mini Militia, or simply Mini Militia, is a 2-Dimensional shooter game. It was developed by Appsomniacs LLC. It is free to play and it is available for Android and IOS smartphones and tablets. It was released on April 5, 2011 for IOS and on March 18, 2015 for Android. In 2017, it was one of the top games for Apple App Store in India.
Features of Mini Militia v7.52
Some of the features of Mini Militia are listed below:
Mini Militia has two modes of play: Singleplayer and Multiplayer.
In the tutorial or training mode, the players are trained at Officer Candidate school by a trainer who is named Sarge for the battle. He teaches the players the basics of controls, weapons and their usage and movements with the help of targets and the use of robots.
In the survival mode, Sarge brings the player in the battlefield and helps them in defense against weaponized robots.
In the multiplayer mode, 6 players can play together online and 12 players can play through local area network (LAN). There is an option between Internet, Bluetooth or Wi-Fi connectivity. There are further game modes such as Team Deathmatch or Capture the Flag and also has a much wider variety of maps and weapons than the survival mode.
Mini Militia has an open world map.
The players have their own avatars that they can customise.
The players can wield guns in both hands.
Various weapons can be zoomed on.
How to download Mini Militia v7.52?
To download the app in your device click the below provided link-