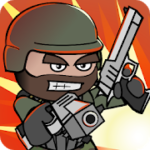 The most popular game on the Apple Store in India, Mini Militia, features Sarge and Noob on their way to free the base of rogue bots that stop at nothing to get at your throats. Developed by Appsomniacs LLC, Mini Militia and Mini Militia 2 is available both for Android and iOS.
Features of Mini Militia v7.54
The Mini Militia game is available for free in both single player and multiplayer modes. It has three stages – Training, Survival, and Multiplayer mode. The multiplayer mode supports 12 players at a time in a LAN like setting or 6 players over Wi-fi and also has other perks of maps, weapons, and modes not available in Training or Survival. Users can also create customised avatars or download new weapons, while playing in the multiplayer mode.
The small size of the game at 47 Mb is also beneficial as it is lighter on our storage capacity.
New users can learn the tricks of the trade and the controls in the Training mode where the player is taught movement and control of weapons by Officer Commander Sarge and can then, apply their new skills in Survival mode where the player can fire at rogue robots with the help of Sarge before proceeding onto the Multiplayer mode.
How to download Mini Militia v7.54?
Mini Militia can be downloaded from the given below link. Click on that and download the game in your device. The Mini Militia provides several updates with improved maps and controls to the user.